Importing Demo Content using the XML file
In this small article you'll learn how to import the Demo Content using the XML file provided together with all of our themes.
Most of our themes already have OneClick Importer in wp-admin Dashboard located in Appearance/Theme Options/Demo Importer , which will upload the demo content for you and also setup the menu, pages etc...
But since this is a frequently asked question we've decided to make a small article regarding the XML file import as well, so here it is.
IMPORTING DEMO CONTENT USING THE XML FILE
All of our themes come with an XML file which contains the Demo Content of that specific theme.
The XML file is located into the Demo Content folder if you've downloaded "All files & documentation" from Envato Market.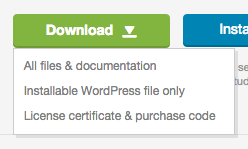 How to Use the XML File to Import the Demo Site's Content
Log into your site as an administrator.
Make sure you activated your new theme before proceeding.
Go to Tools → Import
Choose "WordPress" from the list.
Upload the demo content .xml using the form provided on that page.
You will be asked to map the authors in this export file to users on the blog. For each author, you may choose to map to an existing user on the blog or to create a new user.
You will then have the choice to import attachments, so click on the "Download and import file attachments" box.
Please be patient while WordPress imports all the content. Posts, Pages, Projects, and Menus are imported. You will need assign the menu a theme location & you'll need to configure widgets. This is a limitation of WordPress' import system.
Enjoy!
Now, in case you get error during the installation of the Demo Content it may be due to the Maximum Execution Time, which is a PHP related error, not a theme one and which can be resolved very easy.
I'll give you a link bellow in which you have the solution to that issue.
Max Execution Time Exceeded Solution : http://www.wpbeginner.com/wp-tutorials/how-to-fix-fatal-error-maximum-execution-time-exceeded-in-wordpress/
That's all, after you've successfully uploaded the Demo Content without receiving the error mentioned above (which is pretty rare, depending on the server configuration), you can start building your website.